Gandhian Studies Centre
Following the proud heritage and legacy of KMV, the Gandhian Studies Centre at Kanya Maha Vidyalaya is infused with the spirit and dedication towards the time philosophy of the Mahatma and acquaints the youth with the Gandhian Ideology through various activities & programmes like seminars, lectures, workshops and competitions etc. The centre has been running Vocational Training Course for young women free of any cost. Along with making the students self-reliant and confident, the Centre also tries to reach out to the society at large with complete commitment, dedication and resoluteness.
Literacy drives and other upliftment ventures are carried out under the aegis of this centre, with the main focus of the centre on research of Gandhian Thought, and has undertaken eight research projects. Gandhain Centre library has 631 books, has published 5 books and published one international journal on Gandhian Thought annually The Centre has collaboration with Department of Gandhian Centre, P.U Chandigarh and Gandhi Darshan & Samriti, New Delhi.
Women Empowerment Cell
To sensitize women about their status, identity and role, the college has established Women Empowerment Cell under the aegis of Gandhian Studies Centre. Through this cell the college is trying to ensure free education to girls from lower strata and financially backward classes in the villages nearby. The Cell enlightens the women about their rights, healthcare, career, employment, safety, social security, violence against them through seminars & workshops. Training modules have been designed in computer applications, stitching, embroidery, painting, textile printing, candle making etc. so that they can be economically independent. The Cell has also involved many NGOs, societies and organizations to achieve its mission.

Saplings of Life Club
Since its inception Saplings of Life Club is single-mindedly dedicated to addressing profoundly ur­gent social issues like female foeticide and preservation of environment. The Club organizes lectures, choreographies, skits, street plays, song and dance presentations dealing with girl child and environment issues to spread social messages across all sections of the society. It has involved many NGOs in this noble endeavour of making this world a better place for future generations.

Department of Student Welfare
The primary objective of Department of Student Welfare (DSW) is to bring about and maintain the welfare of the student community by not only addressing the concerns of the students and effectively solving their problems but also striving to make the students understand their unique capabilities and helping them develop their skills and capabilities. DSW fully addresses the academic, social and personal concerns of students via interaction in different forms.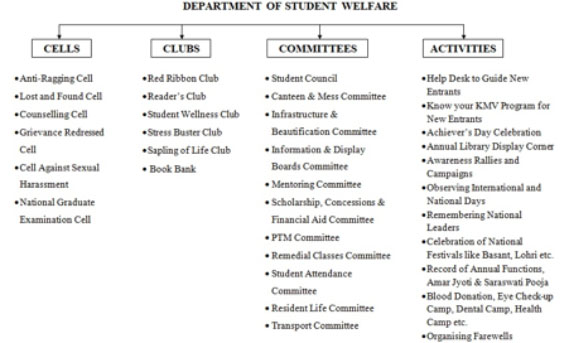 Clubs & Societies
Numerous clubs and societies functioning in the college keep the campus brimming with numerous activities that extend beyond syllabus and textbooks. These clubs are student-centric in nature, and aim at tapping, nurturing and promoting the creative energy that bubbles out of every individual student, thus help the students in refining and redefining their personality. It is mandatory for every student to be a member of one subject society and a club mentioned below at the time of admission.
English Literary Society
Hindi Sahitya Parishad
Punjabi Sahit Parishad
Sanskrit Sahitya Parishad
Young Historians Association
Lalit Kala Parishad
Commerce Society
Computers Club
Social Sciences Society
Student Welfare Club
Readers' Club
Vikram Sarabhai Science Society (Registered with VIPNET (DST))
Ramanujan Maths Society
Pranav Naad (Young Musicians Club)
Sur Sangam (Faculty Activity Club)
Department of ECA (Extra Curricular Activities)
The Department of ECA at KMV is brimming with activities throughout the year. Students participate in many cultural programmes and competitions like Essay writing, Quiz, Story writing, poetry, singing, dancing, acting, painting, modelling, mobile Quiz, Debate, Elocution, slogan writing, poster-making and many awareness enhancement and social extension activities from time to time. They also celebrate important days of national and international importance. The students in collaboration with various NGOs like Rotary, Jaycees, Lions, Pahal, Arrive Safe and Goonj, organise many events like Tree Plantation, Blood Donation, Traffic awareness seminars, Women Safety awareness rallies, Say No to Drugs campaign to name a few. The students actively prepare and participate in items for Zonal, Inter- Zonal, North Zone and Intervarsity Youth Festivals. These activities positively impact students' emotional, intellectual, social, and inter-personal - development. By working together with other individuals, students learn to negotiate well, communicate effectively, resolve conflict and lead others.
Health Club & Gymnasium
The state-of-the-art Health Club caters to the physical fitness of the students and the teaching faculty alike. Students and teachers can avail themselves of various devices like jogger, twister, treadmill, cycle, vibrator, massager, magnetic bike and motorized treadmill etc.
The gymnasium in the college is another facility provided to the students who can train themselves in various games and exercises to remain mentally and physically fit. Provisions have been made for a variety of games like Table Tennis, Badminton, Volleyball, Handball, Wrestling, Judo and Weight Lifting etc.
Kmv Budding Entrepreneurs
This venture is aimed at building and enhancing the entrepreneurial skills of students. They develop their business ideas and assess the viability of their ideas by running "Sukriti-The Retail Lab" which is a realistic point-of-sale facility in which specific measures for strategy implementation such as visual merchandising, store operations, merchandising management, stock handling, cash handling and in particular customer dealing is illustrated vividly and geared towards practical application. The Retail Lab design enables students to experience key industry retail processes. In addition to illustrating retail-related elements, "KMV Budding Entrepreneurs" enables work to be carried out on current research issues and practical projects given to the students. In this way, the venture allows underlying theory to be linked to exemplary applications and practical experience, while also laying the foundations for ongoing applied research and collaborative projects with retail industry.
It is an excellent opportunity for students for networking and team building. It also provides leadership opportunities to students. They develop key entrepreneurial traits. The venture is dedicated to furthering understanding about new and small businesses.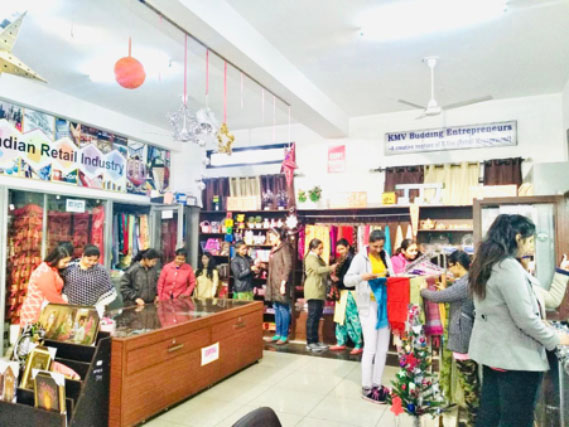 Green and Polythene Free Campus
KMV has an evergreen campus. The college is committed to environmental conservation. Under Green Practices, the college is encouraging solar power and other alternate resources. The College has carried out detailed studies of environmental aspects and or. Based on this studies, significant impact areas have been identified such as paper usage, use of plastic and polythene, Transport, tree plantation etc. Based on the analysis, Operating Control Procedures (OCP) like reuse, reduce and recycle are devised, monitored and implemented.
KMV houses more than 70 peacocks which are fed and taken care of with the help of specialised trainer.
KMV students participate in campaigns like "Van mahotsav", "Plantation Drive", "Eco friendly Diwali" "cleanliness drive", "Earth day celebration". The campus has green landscaping of plants and trees with total 1280 trees , out of these 12 trees are more than 100years old. Campus trres include Ashok, Gulmohar, Kadam, Mulberry, Neem, different varieties of Palm, Citrus, Shesum, Mango , Jamune, and many more. The entire open areas have been kept green through heavy foliage of grass, seasonal flowers, and trees.
KMV has adopted many road side areas for the development of green belt. The campus also has botanical garden having varieties of herbal, medicinal, succulent's plants and trees which include Bahera, Amla Harad , Long , Stevia, Tezpatta, etc.
Paper free transfer of data is encouraged between teaching and administrative block to save paper. All official data is exchanged via e-mail making it totally paperless.
No polythene is allowed across the institution and college has declared as "No polythene zone".